Recycling by design A Matter of Processes
Our plastic processing processes have been designed to optimize the instantaneous recycling of production scraps, when compatible with the material and characteristics required.
Anything that cannot be recovered is sorted and sent to platforms specialising in the regeneration of plastics.
We can also use recycled materials available on the market and certified by international companies, such as R-PE, R-PP and R-PET.

Natural sources Concern for the Origin
The continuous research to be able to offer a sustainable packaging has led Ramaplast to use materials from renewable sources to realise its products.
Particular attention has also been paid to the origin of these sustainable materials, currently they are coming from sugar cane plantations managed with eco-sustainable methods.
We are always very active in participating in international research calls to test materials and masters with charges of vegetable origin.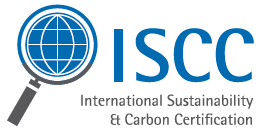 We are ISCC PLUS certified which is an extension of the application of the ISCC standard, a sustainability certification system linked to the sustainability objectives included in the 2030 Agenda.
The certification obtained was issued by RINA which will verify it annually to guarantee the mass balance between the incoming and outgoing material.
Thanks to this certification we are able to offer environmentally friendly materials which in their production process have a mass balance that contributes to the reduction of CO2 and which is guaranteed along the entire ISCC PLUS certification chain.
Adopting this certification means adhering to its six founding principles:
protect areas rich in biodiversity and carbon
adopt good agricultural practices
offer safe working conditions
respect human, labor and land rights
respect international laws and treaties
adopt good management and improvement practices
OUR OFFER FOR
RECYCLED AND GREEN MATERIALS

Virgin Raw Materials
In the world of plastics, the main sources are PETROLEUM and METHANE. Imagine monomers as an agglomeration of very small particles that, through complex chemical processes, join together to form long chains called polymers. This creates the synthetic resin, a soft paste, to which dyes and other substances are added to give plastic the desired features. This paste is then processed into granules and powders ready for the creation of objects. When talking about virgin raw materials at RAMAPLAST, we refer to the production of our products such as PE, PP and PET.
Bio-based Raw Materials
Natural resources can be non-renewable or renewable. The latter make it possible to obtain renewable raw materials of plant origin that can be considered as such because their use does not jeopardise natural resources for future generations. At RAMAPLAST, plastics with these characteristics are PE GREEN, PP GREEN and PET GREEN as they are composed of a percentage of renewable raw material of plant origin.
PCR – Post Consumer Resin
Recycled plastic is defined as post-consumer when the product, in the form of packaging or a finished object, fulfils the task for which it is produced and is delivered, through separate collection to mechanical recycling plants, to create new raw material upon continuous circularity. RAMAPLAST contributes to increasing the circularity of plastics by offering certified plastics such as R-PEHD, R-PELD, R-PP and R-PET consisting of a percentage of plastics derived from separate waste collection.
Recycled Material
That material made using post-consumer waste, within the weight limits imposed by the technologies used to produce the material. It undergoes recycling operations so that it can be recovered for new use. In compliance with this, at RAMAPLAST we rely on suppliers with specific skills who are able to provide this type of material, which is increasingly in demand.
Recyclable Material
It is a crucial feature to all materials and products that can be recycled, i.e. they can undergo physical-chemical and/or mechanical processes that transform them into a new material or product once their life cycle is over. Particularly in the world of plastics, the recycling codes ranging from 1 to 7 are fundamental for RAMAPLAST, a basic guideline in the production and design of our products.
Biodegradability
is the property of a substance to be decomposed by nature, i.e. by bacteria living in the soil and surface waters. Bacteria transform organic matter into carbon dioxide, which is released into the atmosphere and absorbed by trees, algae and plants. Biodegradability therefore ensures the regular maintenance of the ecological balance. The European standard UNI EN 13432:2002 states that to be defined as biodegradable, a product must decompose by 90% within 6 months. In the world of plastics, this is a subject that still sees a lot of room for exploration and research: at RAMAPLAST we are digging in to bring out solutions.
Compostability
Can be defined as a specific type of biodegradation - i.e. the transformation into compost, a natural fertiliser - that takes place in both industrial and domestic composting plants. It refers in particular to material whose decomposition process takes place in less than 3 months. At RAMAPLAST this is an issue that is always and inevitably linked to the content of our products and is the subject of ongoing research.